Canvas is a Learning Management System Niche Academy can integrate into.
Note: Niche Academy will need to be added by a Canvas admin.
Niche Academy can be added through the Canvas app store. Once in there, search for Niche Academy
From here, click "add app" enter the key/secret in the appropriate fields, and select "Add App."
The key and secret can be found under the academy's Settings-->Integrations-->LTI 1.1. Make sure canvas is selected at the top.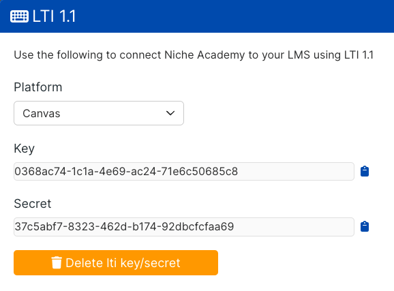 We typically recommend making the app campus-wide so instructors across campus can use Niche Academy tutorials in their courses.
Note: the app can take up to 15 minutes to finalize and appear for instructors to use. If you have any additional questions or are having trouble integrating Niche Academy into Canvas contact support@nicheacademy.com. We are here to help!