Niche Academy's marketplace is filled with thousands of pre-built tutorials, customers can add to their academy.
To access the marketplace, click on the shopping bag icon in the top right corner. While browsing through the marketplace, you will find tutorials created by Niche Academy, Niche Academy Partners, and fellow customers. To view Niche Academy content, select the Niche Academy category.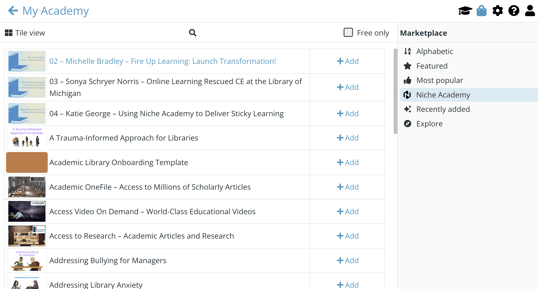 If you see Get Pricing next to a tutorial, this means the tutorial requires an additional cost. If you click Get Pricing, this will notify the tutorial creator that you are interested in purchasing the tutorial from them, and they will reach out to you directly with pricing.
Tutorials with Add next to them are free (Niche Academy content will always be free for customers to add). Once you click Add, this tutorial will be added to the academy you are currently in. If you would like to preview a tutorial before you add it to your academy click on the tutorial name.