You can apply custom certificates to individual tutorials within your academy.
To upload and apply a custom background certificate, click the Settings slider icon next to the tutorial's title.

Ensure Enrollment Required is enabled, click the Custom certificate checkbox, and then click the Customer Tutorial certificate checkbox. In the new field that appears, click Select custom certificate.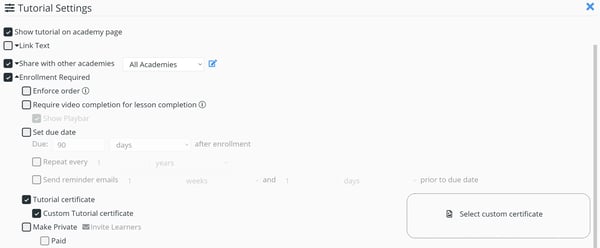 In the box that pops up, you will see all the custom certificates currently uploaded to your academy. If you'd like to upload a certificate, drag and drop the file into the dropfield.
Certificates need to be 3100px wide and 2186px high, and saved as a JPEG.
Once uploaded, click the Select button to apply the certificate background to the tutorial.

Find out how to apply custom certificate backgrounds for the entire academy.